Chances are if you're reading this, you're wandering into Comic Con for one if its final two days — or you're someone far away from the action who just wants to see what's going on with video games. While New York's version of the popular fan convention doesn't lean into the video games space as heavily as it does television and film, there's still a lot to see.
This year, three companies, in particular, brought their A-game for their fans: Bandai Namco, Capcom, and Square Enix. From JRPGs to fighters to something a little more obscure, if you're wandering the front areas of New York Comic Con's massive exhibitor hall, you're bound to find something you'll like.
BLOODSTAIND: RITUAL OF THE NIGHT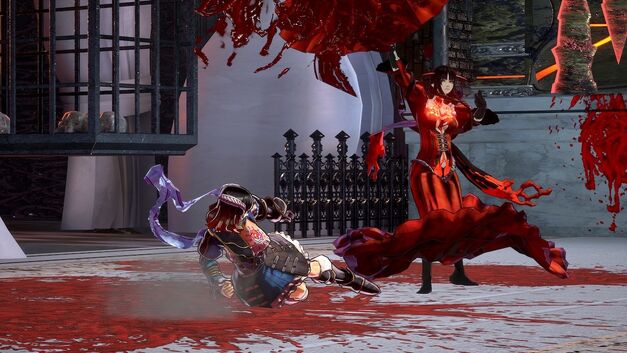 The appearance of this game at Comic Con was a total surprise. Bloodstaind, from the mind of lauded Castlevania creator Koji Igarashi, was funded via Kickstarter in 2015. Since then, it has only sporadically been available for playtime at various fan and press events. So seeing on the floor at New York Comic Con was unexpected.
Set to release sometime during the first half of next year, Bloodstaind is a Metroidvania-type game about an orphan named Miriam who must search a demon-filled castle for a summoner who can lift the curse she is under. Gameplay is similar to the Castlevania: Symphony of the Nightgames that Igarashi worked on and portrayed in a 2.5D style, with 3D characters on 2D backgrounds.
DISSIDIA FINAL FANTASY NT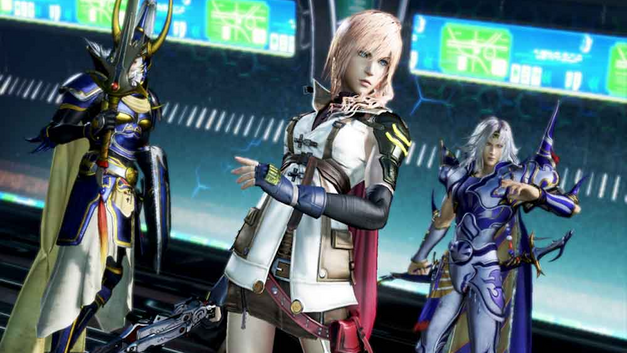 The Final Fantasy fighting game spin-off began its life as a PlayStation Portable game in 2008, as part of the celebrations for the Final Fantasyseries' 20th anniversary. The brawler featured the heroes of villains of Final Fantasy's first 10 numbered titles plus two secret characters from Final Fantasy XI and XII. It was popular enough to spawn a sequel with a larger roster of fighters and more in-depth story mode in 2011, Dissidia 012 Final Fantasy.
In 2015, in collaboration with the developers at Koei Tecmo, Square Enix bought the game to arcades in Japan with a more updated and nuanced fighting system. Now, in early 2018, fans in the West will get Dissidia Final Fantasy NT, this same arcade version from Japan with a few gameplay tweaks to make it more accessible for new players. Check it out on the Comic Con floor in Square Enix's booth.
DRAGON BALL FIGHTERZ
With the release of the ongoing Dragon Ball Super anime and a new Dragon Ball-themed game title coming seemingly every year, Dragon Ball fans are just plain getting spoiled. Up until now, however, most Dragon Ball games were somewhat narrative-driven affairs. This time, the game does the one thing you want to do after watching the anime: fight.
Dragon Ball FighterZ, set to launch in February of next year, brings together an impressive roster of the best of the best from the Dragon Ball series, from Goku to Perfect Cell to Android 18, and lets them duke it out in this side-view fighter. You can give it a try for yourself in Bandai Namco's Comic Con booth.
FINAL FANTASY XV: COMRADES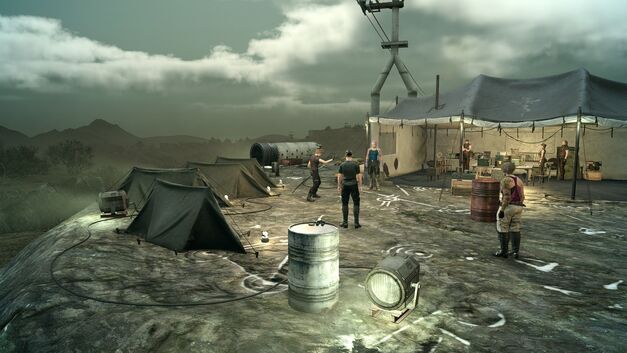 Final Fantasy XV has been out for nearly a year, but it's the gift that keeps on giving for ardent fans of the franchise. On October 31, fans will get the Comrades DLC, a multiplayer expansion in which players can team up with three friends and hunt down monsters in the world of Eos.
The expansion takes place during a 10-year-span set towards the end ofFinal Fantasy XV's main narrative — we won't spoil it for those who haven't played yet — and will include new story details, new areas to explore, and new quest lines. For those who have beaten the main game, it's an excellent opportunity to dive back into the game; give it your first go in Square Enix's Comic Con booth.
LOST SPHEAR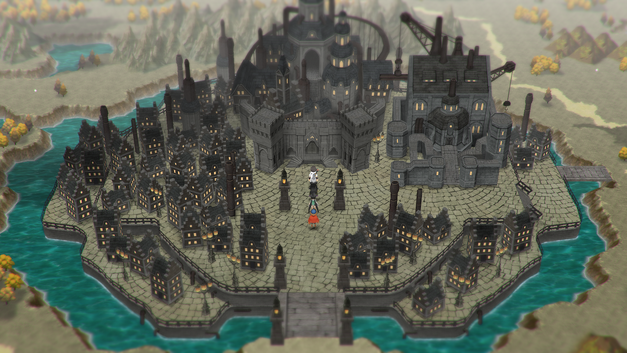 Lost Sphear is another Comic Con game in Square Enix's booth. The company's subsidiary Tokyo RPG Factory made its debut in 2016 with I Am Setsuna, a JRPG inspired by the golden era of the genre — think Chrono Trigger and Secret of Mana. The studio was made to do exactly what its moniker suggests, and next year we'll get its second title, Lost Sphear.
The game is about a world on the verge of disappearing, its memories and people vanishing into nothing. A young boy holds the key to restoring these memories, and he sets out with his friends on a journey across the world to fix it.
MARVEL VS. CAPCOM INFINITE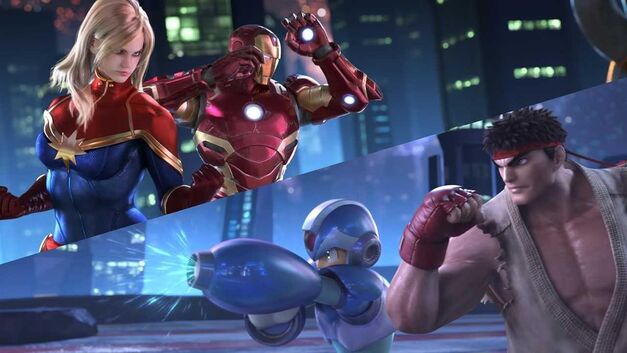 Capcom's fighter announced three new characters recently: Marvel's Black Panther, Sigma from the Mega Man series, and a Monster Hunterfrom the franchise of the same name. While MvC Infinite was just released last month, it's already received a wave of positive criticism and has been used in major eSports tournaments, including Capcom's Marvel-themed Infinity Stone tournament. The opportunity to play these new characters on the New York Comic Con show floor is not one to miss.
MONSTER HUNTER WORLD
Also in Capcom's Comic Con booth, the beloved Japanese role-playing and creature-hunting title finally makes the jump from Nintendo 3DS to console. Beloved in Japan but not as popular in the West, this may be the installment that finally widens the series' appeal.
In Monster Hunter World, teams of four players hunt various monsters, big and small, across a wild and sometimes dangerous world. You can gut the monsters you fell for resources to craft better weapons to take down better monsters, and so on and so forth, building up your arsenal to become the greatest, well, monster hunter.
NI NO KUNI II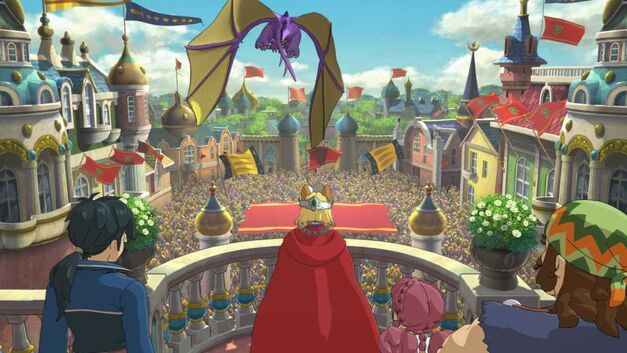 The sequel to the 2013 Studio Ghibli and developer Level-5 collaboration Wrath of the White Witch, Ni no Kuni II: Revenant Kingdom is a whimsical journey through a fantasy world. Fans of real-time combat systems with lots of layers will take to Ni no Kuni II, and the strategy and depth that comes with each encounter. Players will follow King Evan on a quest to reclaim his stolen throne, recruiting a ragtag band of quirky characters along the way. Fans can stop by Bandai Namco's Comic Con booth to give it a try.
RESIDENT EVIL: REVELATIONS ON SWITCH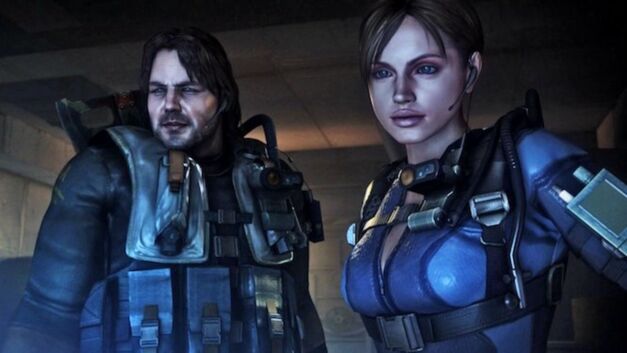 Resident Evil: Revelations came out in 2012 and is available on many different platforms, but Nintendo Switch owners will rejoice to have another well-loved title for their console.
The game takes place in the series' timeline between Resident Evil 4 and 5 and emphasizes exploration and survival in its gameplay. Resident Evil protagonists Jill Valentine and Chris Redfield explore a luxury cruise liner overrun with the nasty creatures you've come to associate with the popular horror franchise. The game has gotten a visual scrub-up for this re-release and is a welcome addition to the Switch library.
RESIDENT EVIL: REVELATIONS 2 ON SWITCH
In 2015, Resident Evil: Revelations 2 released as a series of four episodes. Set between Resident Evil 5 and 6, it follows Claire Redfield and Moira, the daughter of the original Resident Evil's Barry Burton. The game features more stealth than its prequel and emphasizes cooperative gameplay between two players controlling each of the main characters. Since the game was released more recently than its predecessor, it looks slightly better on Switch, with smoother visuals.